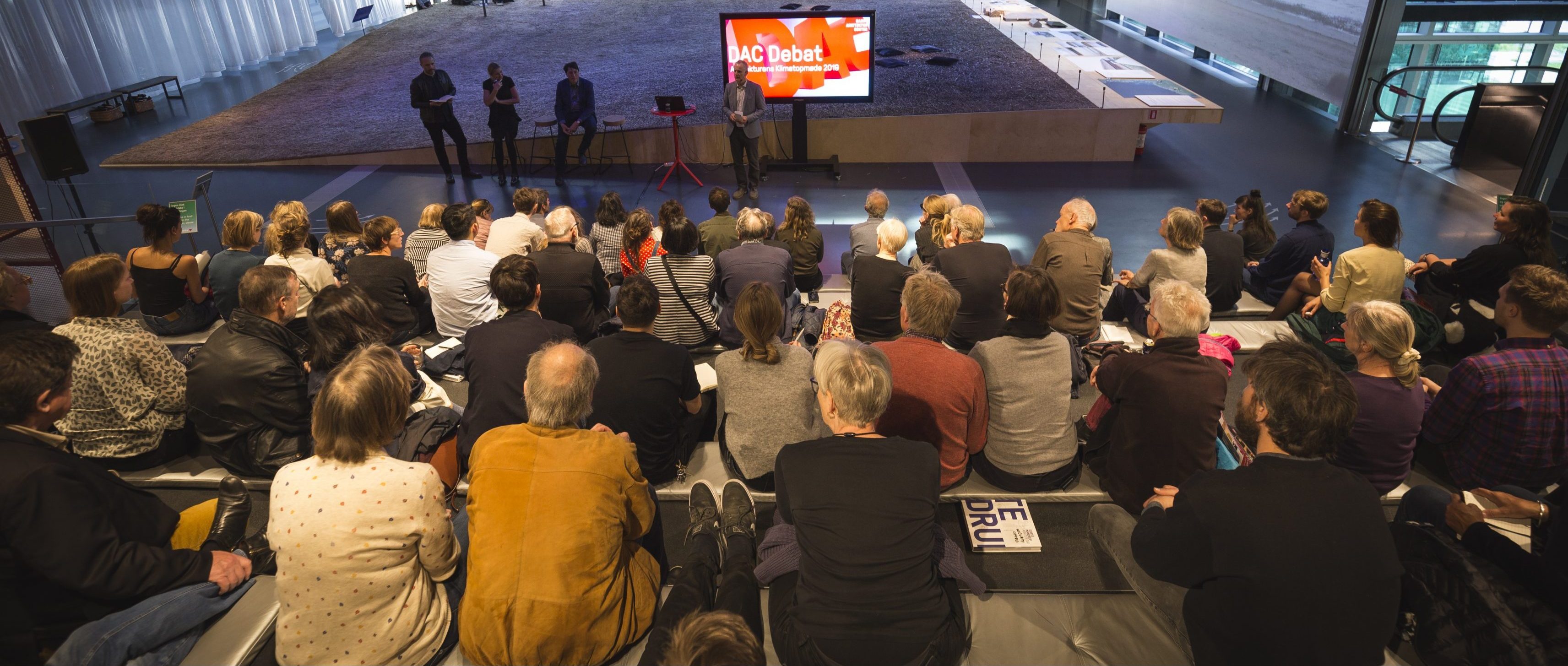 Copenhagen Architecture Festival (CAFx) udforsker, hvordan arkitekturen præger vores liv og vores verden – og hvordan vores liv påvirker arkitekturen. Arkitektur er ikke bare mursten, rum og rammer. Den er sanselig, kropslig og social. Den er politisk, historisk og psykologisk. Arkitekturen er menneskelig, og den påvirker alle aspekter af tilværelsen.
Gennem foredrag, udstillinger, ekskursioner og et omfattende filmprogram sætter vi hvert år fokus på de steder, hvor arkitekturens forvandlinger krydses med menneskeliv. Festivalen skildrer visioner, konflikter og historiske forandringer i det byggede miljø, og undersøger grænserne mellem æstetik, funktion og identitet.
Udover festivalen, faciliterer CAFx "Summer Schools" med et eksperimenterende fokus på relationen mellem film og rum.
The Copenhagen Architecture Festival (CAFx) investigates the role and impact of architecture in our lives and the world we live in. Architecture is more than just bricks, frameworks and compartments. It is sensual, corporeal and social. It is of political, historic and cognitive relevance. We live in constant interaction with architecture; it lives and changes alongside us and affects all aspects of our existence.
Each year, the festival explores and presents ideas on the relation between the architectural world and human life through a broad public program of talks, films, performances, workshops, seminars and exhibitions in collaboration with various institutions and (inter)national partners.
Additionally to festival activities, CAFx also hosts Summer Schools exploring the relation of film and space.
Festivalen blev grundlagt i 2014 på initiativ af Josephine Michau, Peter Møller Rasmussen og Mads Farsø.
Siden er programmet vokset både i omfang og ambition, og er vokset til at være Skandinaviens største årlige begivenhed dedikeret til arkitektur og verdens største arkitekturfilmfestival.
The festival was founded in 2014 by Josephine Michau, Peter Møller Rasmussen and Mads Farsø.
The program has since grown significantly in both content and ambition and is now considered Scandinavia's biggest event dedicated to architecture as well as the world's biggest architecture and film festival.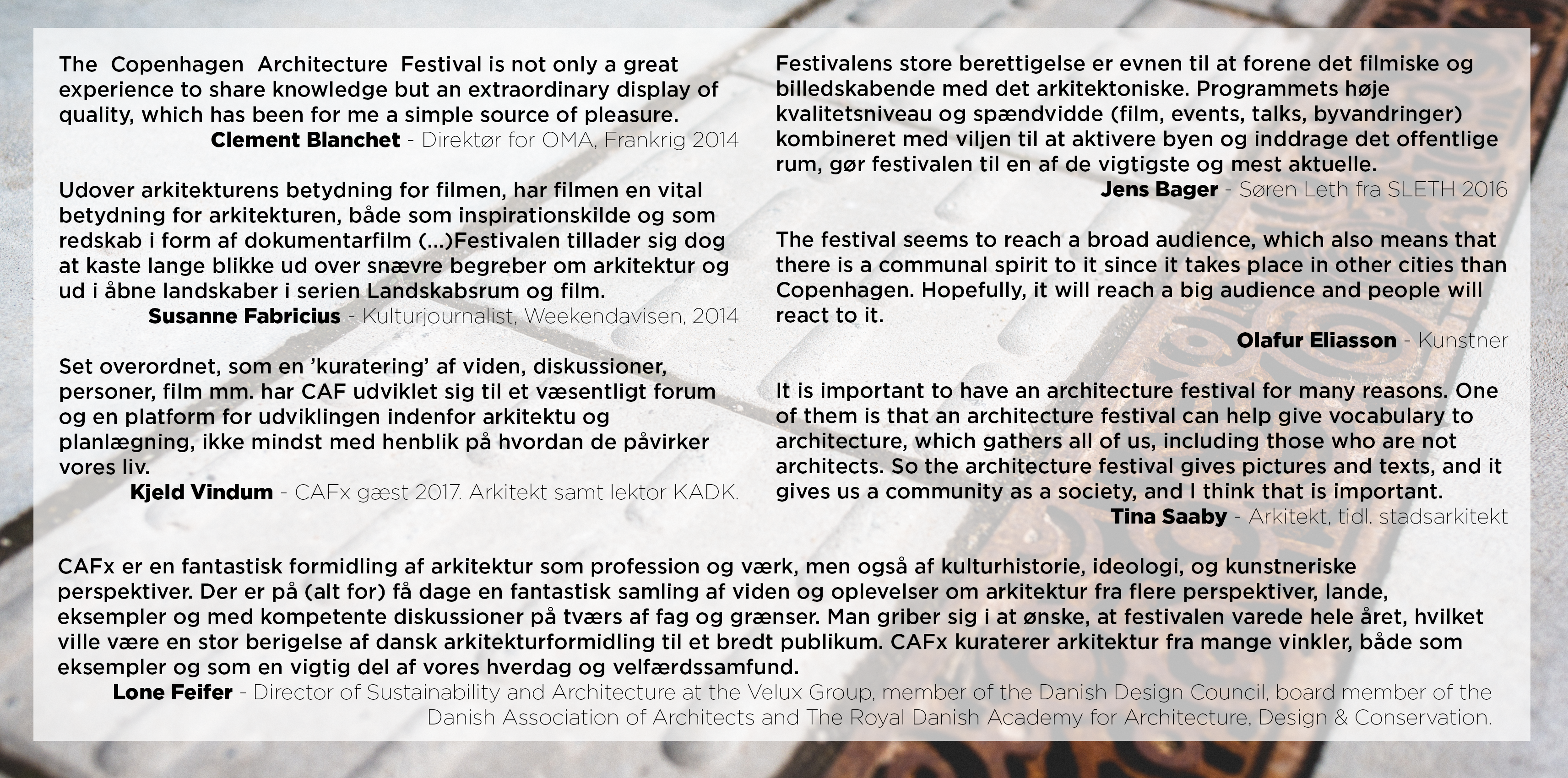 I 2015 blev festivalen udvidet til også at indbefatte Aarhus Architecture Festival (AAFx) og i 2016 løb Aalborg Architecture Festival (ALAFx) af stablen for første gang. I 2018 kom Odense Architecture Festival (OAFx) til.
Festivalen er del af det paneuropæiske netværk Future Architecture Platform og i 2017 bidrog vi naturligvis til programmet for Europæisk Kulturby Aarhus 2017.

Den kommende festival løber fra 23. april – 3. maj 2019 i København, Aarhus og Odense.
Festivalen ledes af festivaldirektør Josephine Michau.
In 2015, the festival expanded to include the city of Aarhus and the following year the city of Aalborg. In 2018, the Odense Architecture Festival (OAFx) started.
CAFx is part of the pan european network Future Architecture Festival and has contributed to the 2017 Culture Capital program in Aarhus.

The upcoming festival in 2020 runs from April 23 – May 3 in the cities of Copenhagen, Aarhus and Odense.
The festival is conducted by festival director Josephine Michau