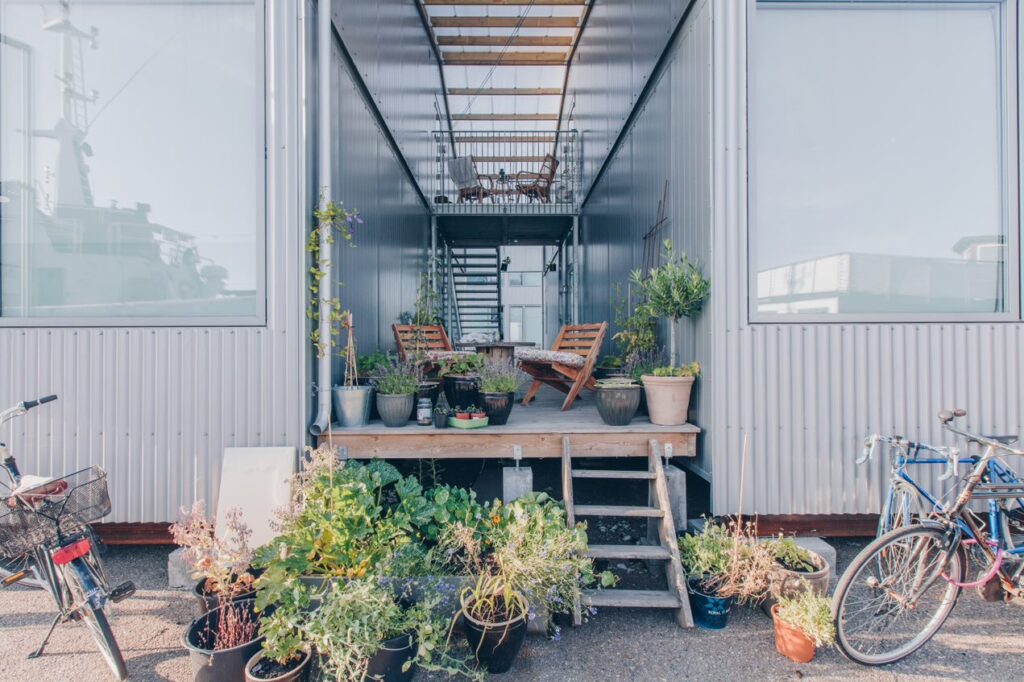 Credit: CPH Village by Astrid Maria Rasmussen
OBSERVATIONS, VISIONS, AND CONSIDERATIONS ON THE IMPACT OF THE CORONA-CRISIS ON THE BUILT ENVIRONMENT, IN BOTH DANISH AND INTERNATIONAL CONTEXTS.
The format is open and can be both text and illustration, however, please write in either English or Danish. The incoming contributions will be published on our web and Facebook pages.
Streetlife has been suspended, freedom of assembly has been radically restricted, and most institutions and workplaces are closed down, while social and professional relations are confined to digital platforms. To an extreme extent, the home and the nation-state have become guiding frameworks for our everyday lives. National borders are closing while new biological, bodily defined borders have arisen by dictate. Over a short period of time, a new system of distancing has been implemented, and as an underlying effect, these new codes of conduct have brought evidence to the connection between all of us. Paradoxical connectivity of both good and bad.
What impact can we imagine the current pandemic will have – or ought to have – on our approach to the built environment and urban planning in the future? Less density? More surveillance? More risk assessment and preventive regulations? What social, political, and cultural effects can we fear or hope for that this global state of emergency will cause? Increased social equality and solidarity across societal divides? Across national borders? Or more social control? A decrease in consumption? Changed mobility patterns? Are there concrete construction projects and planning strategies that present themselves differently in the wake of our, as of yet only budding, experiences from the pandemic and its expectedly severe impact on economies across the globe? Do the Corona-crisis call for a return of the Welfare state with its top-down planning? Is it possible to imagine that positive experiences and a change of behavioral patterns can be drawn from the Covid-19-crisis to the Climate-crisis?
We are looking forward to a querying, free-thinking, and inspiring debate, that can help us reflect together on this unprecedented situation and its possible consequences.
BETRAGTNINGER, VISIONER OG OVERVEJELSER OMKRING CORONA-KRISENS BETYDNING FOR DET BYGGEDE MILJØ, I BÅDE DANSK OG INTERNATIONAL KONTEKST.
Formatet er åbent og kan være både tekst og illustration, dog beder vi jer om at skrive på engelsk eller dansk. De indkomne bidrag vil publiceres løbende på web og Facebook.
Gadens liv er suspenderet, forsamlingsfriheden er stærkt begrænset, de fleste institutioner og arbejdspladser er lukket ned, og sociale og professionelle forbindelser er henvist til digitale platforme. Hjemmet og nationalstaten er blevet de retningsgivende rammer for vores hverdag i en ekstrem grad. Landegrænser er lukket alt imens nye biologiske, kropsligt definerede grænser er opstået gennem diktat. På kort tid er et system af afstandtagen blevet implementeret, og har som underløbende effekt tydeliggjort sammenhængen mellem os alle. På både godt og ondt.
Hvad kan man forestille sig, at den nærværende pandemi vil få – eller bør få – af betydning for vores tilgang til det byggede miljø og byudvikling fremover? Mindre tæthed? Mere overvågning? Mere risikohåndtering og flere forebyggende foranstaltninger? Hvilke sociale, politiske og kulturelle effekter kan man frygte eller håbe på, at denne globale undtagelsestilstand vil medføre? Øget social lighed og solidaritet på tværs af skel? På tværs af landegrænser? Eller øget social kontrol? Formindsket forbrug og ændrede mobilitetsmønstre? Er der konkrete byggeprojekter og planlægningsstrategier, der tager sig anderledes ud på baggrund af vores endnu kun spirende erfaringer med pandemien og dens forventede voldsomme aftryk på økonomier verden over? Varsler Corona-krisen velfærdsstatens genkomst? Kan man forestille sig, at positive erfaringer og adfærdsformer kan drages fra Covid-19-krisen til klimakrisen?
Vi ser frem til en udforskende, fritænkende og inspirerende debat, der kan hjælpe os til sammen at reflektere over denne omvæltningens tid og dens mulige konsekvenser.